Atlas Copco:
Winterized compressors heading to Shah Deniz platform


June 30, 2015 + + + Atlas Copco Compressors has delivered a 50-metric ton (55-ton) air compressor package to Baku for installation on a platform on the Shah Deniz field, 90 km (56 mi) offshore Azerbaijan in the Caspian Sea.
The consignment, mounted on a single skid, comprised three ZR500 water-cooled screw compressors, a closed circuit water cooling system, three heatless dryers and a ZT110 black start screw compressor for emergencies. It was designed, built, and tested at Atlas Copco's Hemel workshop north of London.
The main air compressor package was more than 11 m (36 ft) long, 6 m (19.7 ft) wide and 3.75 m (12.3 ft) high, and had to be shipped out from Immingham on the English east coast. Later on in transit, the equipment will travel via canal from the Black Sea into the Caspian Sea for installation on the platform.
Due to the exposed nature of the location on the offshore platform location, the main air compressor package has been weatherproofed, winterized, and built to withstand wind speeds of up to 45 m/s (147 ft/s) and ambient air temperatures ranging from 7°C (45°F) to +40°C (104°F) at high relative humidity.
It is designed for continuous 24-hr operation and to cope with inertial accelerations brought on by seismic activity. It will provide instrument air for pneumatic controls and actuation of critical valves and instruments on the platform. Normally two of the main air compressors will be running continuously to provide 100% of the platform's instrument air needs. In the event of a power failure and loss of the main air compressor package, the black start air compressor, supplied by the platform's emergency power generator, will start and provide the minimum compressed air needed to safely shut down platform operations.
Source: Atlas Copco
Published by Offshore Magazine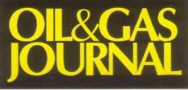 Worldwide more than
100,000 paid subscriptions
Since May 2015 OG&PE (Oil, Gas & Petrochem Equipment) is published as part of the OIL & GAS JOURNAL to serve a consolidated monthly audience of 135,000 oil and gas professionals worldwide - read more


Worldwide more than 48,000 subscriptions -
100% one-year direct request qualification


'What's New' in Upstream, Midstream and Downstream Products & Services. Circulation 37,000

PennWell
Petroleum Group:
Oil & Gas Journal
Oil & Gas Journal Russia
OGJ_eNewsletter
OGJ-Website-Statistics
Oil, Gas & Petrochem Equipment
Offshore Magazine
Offshore Russia
Offshore eNewsletter
Offshore Website Statistics

Oil & Gas Financial Journal

+ + +
For more information, media kits or sample copies please contact
Andreas Sicking
+49 (0)2903-338570
wilhelms@pennwell.com www.sicking.de