New Wireless AP/Bridge/Client Features AeroLink Protection™
for Maximum Wireless Network Availability

AeroLink Protection on the new AWK-3131A automatically restores communications within 300ms of connection failure to help industrial wireless networks avoid interruptions


Aug. 11, 2015 + + + In industrial networking applications, such as communications between offshore oil platforms or train-to-ground communications, a reliable wireless bridge is essential to minimize system downtime and maximize availability. Moxa's new AWK-3131A wireless AP/bridge/client delivers exceptionally fast, ultra reliable wireless performance in industrial settings by supporting IEEE 802.11n technology with a maximum net data rate of 300 Mbps, plus AeroLink Protection™ redundancy to prevent a single point of failure from bringing down an entire network.

With AeroLink Protection™, a network has two or more protected wireless client nodes connected to a single access point. One serves as the active node, while the others are passive backup nodes. If the active node stops sending or receiving data for any reason, AeroLink Protection™ completely restores the communication link within 300ms (milliseconds) by bringing backup nodes online.

"AeroLink Protection constantly monitors each device's status. If the active node is disabled by a local power failure or hardware fault, the backup nodes will automatically take over to keep the data moving," said Sarun Kub, Product Marketing Manager Industrial Wireless at Moxa.

Due to overcrowding on the 2.4 GHz frequency band and the introduction of 802.11ac, many industrial networks have already begun migrating to 5 GHz. Engineered for flexible deployment, the AWK-3131A can operate on either the 2.4 or 5 GHz bands and is backwards-compatible with existing 802.11a/b/g applications to future-proof wireless investments.

Seamless roaming offered by the AWK-3131A's Turbo Roaming technology reduces handover time to the millisecond level and provide the benefits of seamless transmission and control. To avoid packet loss, the AWK-3131A actively searches for APs with a stronger signal without waiting for a complete disconnection. Turbo Roaming is especially useful in the control and monitoring of mobile vehicles such as the unmanned AGVs and shuttles commonly implemented in factory automation.
Power and radio frequency disturbances are the two most common causes of wireless communications failure in industrial computing applications. The AWK-3131A is designed with integrated dual isolation protection to mitigate both. First, Integrated RF Isolation provides 500-V insulation protection and level 4 ESD protection without loss of the RF signal. Next, Integrated Power Isolation provides 500-V insulation protection and stabilizes system voltage.

The AWK-3131A is compliant with industrial standards and approvals covering operating temperature, power input voltage, surge, ESD, and vibration to assure performance in harsh industrial environments such as oil refineries, water treatment centers and offshore platforms. For more information please visit www.moxa.com or go direct to www.moxa.com/product/AWK-3131A.htm

Source: Sonja Schleif,
www.2beecomm.de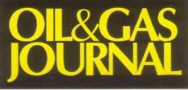 Worldwide more than
100,000 paid subscriptions
Since May 2015 OG&PE (Oil, Gas & Petrochem Equipment) is published as part of the OIL & GAS JOURNAL to serve a consolidated monthly audience of 135,000 oil and gas professionals worldwide - read more


Worldwide more than 48,000 subscriptions -
100% one-year direct request qualification


'What's New' in Upstream, Midstream and Downstream Products & Services. Circulation 37,000

PennWell
Petroleum Group:
Oil & Gas Journal
Oil & Gas Journal Russia
OGJ_eNewsletter
OGJ-Website-Statistics
Oil, Gas & Petrochem Equipment
Offshore Magazine
Offshore Russia
Offshore eNewsletter
Offshore Website Statistics

Oil & Gas Financial Journal

+ + +
For more information, media kits or sample copies please contact
Andreas Sicking
+49 (0)2903-338570
wilhelms@pennwell.com www.sicking.de