Energy For All
World Energy Focus Annual 2015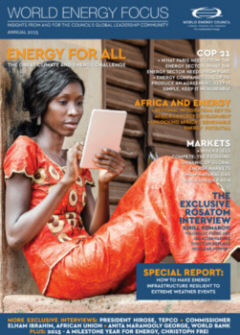 Nov. 21, 2015 + + + We are delighted to bring you the annual issue of World Energy Focus, the magazine of the World Energy Council. This year's annual publication is divided into four sections: Climate, Markets, Africa and the 2016 World Energy Congress featuring interviews and articles from CEO's, energy ministers and leaders from across the world along with contributions from the Council itself.
> Click here to register for the FREE Download of the World Energy Annual Focus 2015 from the WEC-Website ... and/or for the FREE WEC monthly eNewsletter
.
Some of the highlights in this 2015-2016 issue:

- "Embracing the new frontiers of energy" by Ahmet Davutoglu, Prime Minister of the Republic of Turkey
- "Paris climate summit: What we need from the energy sector" by Christiana Figueres, United Nations Framework Convention on Climate Change (UNFCCC)
- "Energy sector to COP21: Produce an agreement, keep it simple, keep it measurable" by Francois Austin, Oliver Wyman
- "Egypt and Jordan: Supporting renewables, being supported by renewables" by Riccardo Puliti, European Bank for Reconstruction and Development (EBRD)

PLUS interviews with:

- Naomi Hirose, Tokyo Electric Power Company "We aim to become the world's safest nuclear operator"
- Commissioner Elham Ibrahim, African Union "There is a clear need for African Countries to connect their national electricity grids"
- Kirill Komarov, Rosatom "Globally there are no alternatives that can replace nuclear power"
- Anita Marangoly George, World Bank, "There is a silent global energy transformation going on"

AND

- A feature "Smarter, not stronger: How to make energy infrastructure more resilient to extreme weather".
Source:
Kristina Acker - Communications Manager
World Energy Council
Skype acker.wec
T (+44) 20 3214 0604 (Direct)
T (+44) 20 7734 5996 (Switchboard)
F (+44) 20 7734 5926
E acker@worldenergy.org
www.worldenergy.org
@WECouncil
Download the PDF version of the annual issue of World Energy Focus at http://worldenergyfocus.org/annual-2015-02/
You would like to order a hardcopy of the annual Focus magazine? Printed copies of this publication are available for free to World Energy Council members via their national member committees or for non-World Energy Council members at €25 each plus p&p. Non-members please email matthew.james@energypost.eu to reserve your copy (please allow up to 14 days for delivery).

Enjoy reading and sharing this annual issue. I am looking forward to receiving your feedback.
---
The World Energy Focus Annual: Published on the occasion of the World Energy Council's Executive Assembly, the special printed edition of World Energy Focus magazine highlights the views of top-level constituents of the World Energy Council's network, the Trilemma debate and various other sessions which further the Council's work on projects, reports and global energy issues. This year the meeting was held in Addis Ababa, Ethiopia between 26th and 30th October.

The monthly World Energy Focus e-magazine, coming out at the beginning of each month, brings you news, features, interviews, and World Energy Council insights on current energy developments. The magazine covers a wide spectrum of global energy topics.

In our past issues, we have covered issues as diverse as fixing India's creaking energy sector, ending energy poverty in Africa, what the oil price slide means, and China's changing fuel mix. And we have done exclusive interviews with leading figures such as Johannes Teyssen, CEO of E.ON; Taner Yildiz, the Turkish Minister of Energy and Natural Resources; and Steve Holliday, CEO of National Grid.

Kristina Acker
Communications Manager
World Energy Council
Skype acker.wec
T (+44) 20 3214 0604 (Direct)
T (+44) 20 7734 5996 (Switchboard)
F (+44) 20 7734 5926
E acker@worldenergy.org
www.worldenergy.org
@WECouncil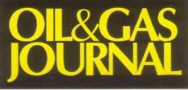 Worldwide more than
100,000 paid subscriptions
Since May 2015
Oil, Gas & Petrochem (OG&PE) is published as part of the
OIL & GAS JOURNAL to serve a consolidated monthly audience of 135,000 oil/gas professionals worldwide
» read more


Worldwide more than 48,000 subscriptions -
100% one-year direct request qualification


'What's New' in Upstream, Midstream and Downstream Products & Services. Circulation 37,000

PennWell
Petroleum Group:
Oil & Gas Journal
Oil & Gas Journal Russia
OGJ_eNewsletter
OGJ-Website-Statistics
Oil, Gas & Petrochem Equipment
Offshore Magazine
Offshore Russia
Offshore eNewsletter
Offshore Website Statistics

Oil & Gas Financial Journal

+ + +
For more information, media kits or sample copies please contact
Andreas Sicking
+49 (0)2903-338570
wilhelms@pennwell.com www.sicking.de