Bomin Linde LNG and Klaipedos Nafta
to jointly develop LNG fuel market

Feb. 19, 2015 + + + Klaipedos Nafta, operator of the first full scale LNG terminal in the Baltic Sea region, and Bomin Linde LNG, Germany-based provider of liquefied natural gas (LNG) as marine fuel, have signed a Memorandum of Understanding (MoU). In close cooperation both companies aim to jointly develop the LNG fuel market including the necessary infrastructure in Baltic Sea.
As of 1st of January 2015, Klaipedos Nafta has successfully started commercial operations of its floating storage a deregasification unit (FSRU) named "Independence", providing LNG regasification and reloading services on a third-party-access basis. In the next step, the company intends to construct an on-shore small-scale LNG reloading station in the port of Klaipeda. With this station Klaipedos Nafta will be able to offer small-scale LNG services, e.g. loading services for trucks, serving the increasing demand for LNG the Baltic States and in Poland.
Bomin Linde LNG intends to become the user of the Klaipeda LNG terminal and to book regulated LNG reloading capacities in order to use the facility as the regional break-bulking hub for the Baltic Sea. Bomin Linde LNG and Klaipedos Nafta also agreed to jointly explore the possibilities to develop a LNG bunkering vessel. The bunkering vessel would provide LNG bunkering services in the region, feed the LNG reloading station in Klaipeda, Bomin Linde's LNG bunkering terminals, e.g. the planned terminal in Hamburg, and other bunkering terminals in the Baltic Sea.
Bomin Linde's Managing Director Mahinde Abeynaike explains: "we consider this partnership to be an important milestone in the development of an efficient supply of LNG to ports at the Baltic Sea". His colleague Ruben Benders adds: "jointly with our partner Klaipedos Nafta, we will build a unique LNG supply chain that is needed to take the regional LNG markets to the next level".
Mantas Bartuska, the General Manager of Klaipedos Nafta says: "today we are very glad that we had signed the MoU with one of the main LNG market players in the LNG world. This MoU shows that the market leaders are starting to work on new LNG business cases in the Baltic Sea which are enabled by the successful commissioning of the Klaipeda LNG terminal in the last months of 2014. Also the fact that Klaipedos Nafta has secured EU funding for the onshore LNG infrastructure development work shows that the Company is on the right new track and in line with the long-term strategy of the EU planning new services".
+ + +
Bomin Linde LNG GmbH & Co. KG
Located in Hamburg, Germany, Bomin Linde LNG GmbH & Co. KG is a leading provider of liquefied natural gas (LNG) as marine fuel. As a joint venture of Linde and Mabanaft, which is a subsidiary of Marquard & Bahls, Bomin Linde LNG has access to a broad range of expertise in cryogenic engineering, logistics and fuel supply. The strategy of Bomin Linde LNG is to cover the complete LNG value chain – from sourcing and transport through storage and distribution to refuelling ships with LNG in strategically important ports. More: www.bominlinde.com
SC Klaipedos Nafta
Klaipedos Nafta owns and operates one of the most modern crude oil and crude oil products terminals in Europe. It operates in the ice-free port of Klaipeda, a major Lithuanian transport junction connecting sea routes, motorways and railways between the East and West. Klaipedos Nafta also is the operator of the Klaipeda LNG Terminal of 170,000 m3 storage capacities and the annual capacity of 4 bcm of regasified natural gas. More: www.sgd.lt/index.php
Source: Bomin Linde LNG and SC Klaipedos Nafta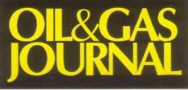 Worldwide more than
90,000 paid subscriptions


Worldwide more than 48,000 subscriptions -
100% one-year direct request qualification


'What's New' in Upstream, Midstream and Downstream Products & Services. Circulation 37,000

PennWell
Petroleum Group:
Oil & Gas Journal
Oil & Gas Journal Russia
OGJ_eNewsletter
OGJ-Website-Statistics
Oil, Gas & Petrochem Equipment
Offshore Magazine
Offshore Russia
Offshore eNewsletter
Offshore Website Statistics

Oil & Gas Financial Journal


+ + +
For more information, media kits or sample copies please contact
Andreas Sicking
+49 (0)2903-338570
wilhelms@pennwell.com www.sicking.de