Webcast Invitation
Worldwide Pipeline Construction 2015
Oil & Gas Journal's Forecast & Review

January 30, 2015
11:00 AM Eastern Standard Time
10:00 AM Central Standard Time
08:00 AM Pacific Standard Time
16:00 Greenwich Mean Time

Free to attend
Approximately one hour
.
---
The Forecast & Review/Worldwide Pipeline Construction 2015 Webcast will address Oil & Gas Journal's outlooks for the oil market and pipeline construction in a year of turbulence.
Based on two annual special reports, the webcast will be presented by OGJ Editor Bob Tippee and OGJ Managing Editor-Technology Chris Smith.
The Forecast & Review portion of the webcast will identify forces underlying the collapse in crude oil prices and assess prospects for changes essential to recovery—all in the context of geopolitical pressures buffeting the market. The special report on which it is based appeared in the Jan. 5, 2015, edition of OGJ and is accessible by subscribers here.
The pipeline construction outlook previews the Worldwide Pipeline Construction special report coming in the Feb. 2, 2015, issue of OGJ. It projects pipeline mileage, by region and pipeline type, to be completed in 2015 and in years beyond and highlights globally important project planned and under way.
As always, participants will be able to submit questions to the presenters.

This Oil & Gas Journal Webcast is sponsored by Iron Mountain
Additional sponsors are welcome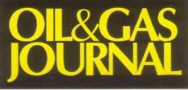 Worldwide more than
90,000 paid subscriptions


Worldwide more than 48,000 subscriptions -
100% one-year direct request qualification


'What's New' in Upstream, Midstream and Downstream Products & Services. Circulation 37,000

PennWell
Petroleum Group:
Oil & Gas Journal
Oil & Gas Journal Russia
OGJ_eNewsletter
OGJ-Website-Statistics
Oil, Gas & Petrochem Equipment
Offshore Magazine
Offshore Russia
Offshore eNewsletter
Offshore Website Statistics

Oil & Gas Financial Journal


+ + +
For more information, media kits or sample copies please contact
Andreas Sicking
+49 (0)2903-338570
wilhelms@pennwell.com www.sicking.de